Blog
Next Contest Question: Tell us about…
Thanks to everyone who participated in the latest question of our Facebook contest! We got a lot of great feedback on how HotSchedules fits into your company culture. Check out the chart below summarizing your responses to the question: Would you consider HotSchedules a positive part of your company culture? A) Strongly agree B) Agree […]
Thanks to everyone who participated in the latest question of our Facebook contest! We got a lot of great feedback on how HotSchedules fits into your company culture. Check out the chart below summarizing your responses to the question:
Would you consider HotSchedules a positive part of your company culture?
A) Strongly agree
B) Agree
C) Neutral
D) Disagree
E) Strongly Disagree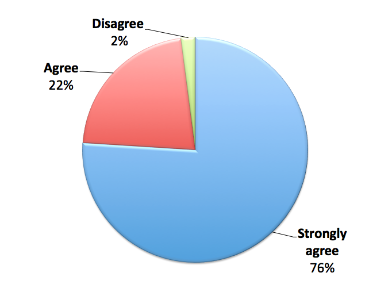 The randomly selected winner for Question #6 was Isaac Velasquez of McAlister's in Lubbock, Texas — congratulations, Isaac! Isaac mentioned that he loves HotSchedules because "it's able to keep everyone informed of their schedules and changes at work, in order to allow the employees to work around their daily lives and not wait to the last minute to try to make any changes. By doing so, it increases moral and performance in the work environment and better communication which is key in all we do."
Now, on to the next one question and YOUR chance to join us on Facebook and answer to win our next prize. (Click here to review the rules.) We wanted to have some fun with this one. The question is:
*Tell us about the most embarrassing or funniest thing that's ever happened to you working in a restaurant — and keep it PG-13, please! *
This question will be up for two weeks, so head on over to Facebook and spill your story — we can't wait to hear it. And don't forget to tell your friends and colleagues that use HotSchedules to participate so we can reach our goal!